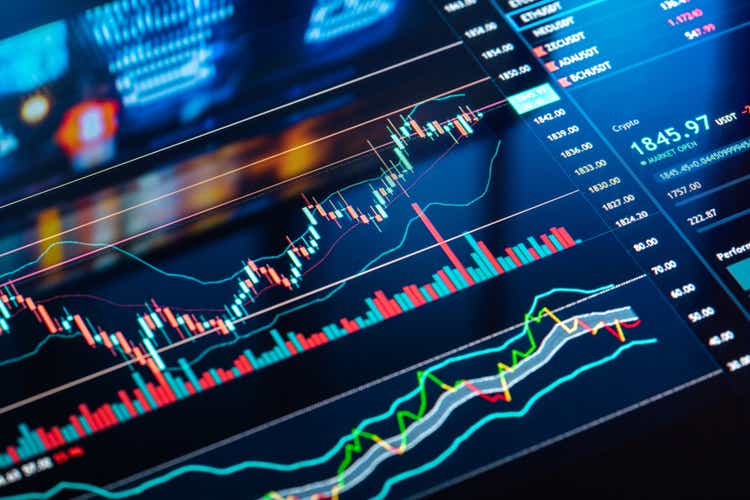 Ukraine – Exchange of ideas | Looking for Alpha
This is a third episode about ideas on how I protect my wallet against Russia's war on Ukraine. Last week I sold my coal holdings with a gain of about 50% over two weeks. I bought arms producers last the week. I occupy my positions of palladium and dispatch. I increased my oil holdings considerably in the low days.
In the first episode, I wrote about my first business ideas about the war in Russia. I bought JSW and TGA (OTCPK: TNGRF) coal miners. I sold last week. JSW was an excellent trade, bought on average at 40 PLN, sold between 68 and 75 PLN. TGA was good too. I remain a supporter of coal (due to the EU's need to diversify away from Russian gas) and want to re-enter positions on a tough day.
I reported the purchase of a poorly managed IPO of CoolCo, an LNG shipping carrier. The blackout ended today, early research published. More research reports in the coming days. CoolCo stands to benefit from the diversification of EU gas supply. They will try to get more gas from non-Russian producers. This should help drive up rates. Pareto wrote today:
LNGC: Cool Co. rumored to set TFDE for 1Y TC at 120k USD/dayRumor has it (unconfirmed) that Cool Company chartered a vessel on a 1Y TC at 120k USD/day to Polish LNG importer PGNiG. COOL has eight TFDEs built between 2013 and 15, which means that regardless of the ship ("Golar Bear", rumored), the deal would mark a significant increase from the $95,000/day brokers were quoting on Friday. for TFDEs.
CoolCo is trading today at around NOK 81. My price target is 120-130 NOK.
I bought oil positions in Aker BP (OTCPK: DETNF) and Africa Oil (OTCPK: AOIFF) in the last two weeks. Both in essence play on oil – speculating on Russia has reduced deliveries. I was buying Aker BP around 276-285 NOK and African oil at 17.5 NOK. I will buy more on weakness.
I bought several arms producers last week, namely Raytheon (RTX), KOG (OTCPK:NSKFF), Boeing (BA), LDO (OTCPK:FINMF), RHM (OTCPK:RNMBF) and LOM (LMT) . The stock price hasn't moved much, I'm at 5-10% profit. The reason is that Germany has already announced the doubling of its defense budget. Denmark too. Any EU country will do. These companies should be the beneficiaries based on my research. I am doing more excavations in the area and want to increase my exposure in this area.
After conversations with QFUEL (OTCPK:QNTFF) management, brokers and some large investors, I am very bullish on QFUEL. For QFUEL, war is not positive, so it does not fully fit into this blog post. But I find it to be a very attractive trade both short term and long term that should work even despite the war.
The last time the market believed the proof of concept was in sight, the company was trading above NOK 70. QFUEL has made great technological strides since, but is trading below NOK 20. The risk-reward is very attractive, in my opinion. I like that the CEO bought stocks last week. I am also in the market.
Editor's note: The summary bullet points for this article were chosen by the Seeking Alpha editors.