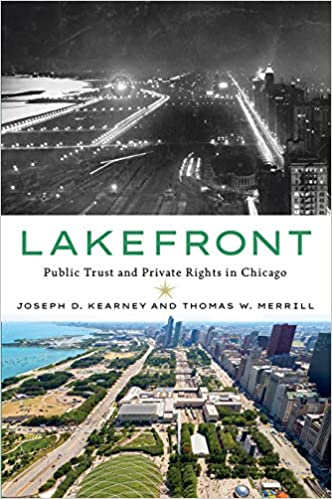 Public trust and private rights in Chicago "
I am delighted to announce that Dean Joseph Kearney (Marquette) and Professor Thomas Merrill (Columbia) will be posting a guest blog this week on their new book, Lakefront: Public Trust and Private Rights in Chicago, which was just published by Cornell University Press:
How did Chicago, a city known for commerce, come to have such a splendid public waterfront, its most precious asset? Lakeside reveals a story of social, political and legal conflict in which private and public rights have collided repeatedly over time, to produce, as a sort of miracle, a generally happy ending.

Joseph D. Kearney and Thomas W. Merrill study the evolution of the shores of the lake from the mid-19th century to the 21st. Their findings are important in understanding not only Chicago's history, but also the role of law in determining the future of important urban resources such as waterfronts.

It was on the shores of Lake Chicago that the American doctrine of public trust was born, prohibiting certain public resources from private development. This book describes the circumstances that gave rise to the doctrine and its fluctuating importance over time, and reveals how it was resuscitated at the end of the twentieth century to become the main principle of mediating conflicts between public and private rights in the world. edge of the lake. Lakeside compares the effectiveness of the idea of ​​public trust to other property doctrines and assesses the role of law in relation to more institutional developments, such as the emergence of health commissions and park districts, in securing protection of the lake shore for public uses.

Tracing its history, Kearney and Merrill demonstrate that the current state of the lakeside is in part the product of individuals and events unique to Chicago. But technological changes and a transformation of social values ​​in favor of recreational and preservationist uses have also been critical. Throughout the process, the law, although constantly evolving, has at least played a supporting role.
And here are some jacket presentations:
"In this remarkable book, Kearney and Merrill describe how Chicago became one of the world's most glorious urban waterfronts. They masterfully weave this surprisingly contingent story, recounting two centuries of field events, influential figures and of fluctuating laws and developments that together have created the city's justly famous lakefront. "—Carol M. Rose, University of Arizona and Yale Law School, author of Ownership and persuasion

"A beautiful and delightfully told story, full of scoundrels and corrupt politicians, Lakeside solves the long-standing enigma of the origins of the famous 19th-century Supreme Court decision in Illinois Central Railroad Co. v. Illinois and reveals its no less extraordinary epilogue, including the unlikely resurrection of the ruling by activists of the 1970s to become a powerful legal precedent for environmental protection. "—Richard J. Lazarus, Aibel Law Professor, Harvard University, author of The making of environmental law

"Grant Park and the Chicago lakefront are among the country's great public spaces. This inspiring book reveals the troubled historical, legal and social roots of these parks. Consistently thorough, insightful, and readable, Kearney and Merrill are role models for working in urban history. "—Robert C. Ellickson, Walter E. Meyer professor of real estate and urban law, Yale University, author of Lawless order
"Thanks to its authors' exhaustive research, clear prose, colorful characters, exceptionally useful maps, and an enviable ability to illuminate all complex concepts of private and public property, Lakeside is a wonderful read not only for those interested in Chicago, but also for anyone interested in understanding how urban built environments are born and continually evolve. —Carl Smith, Northwestern University, author of City water, City life and The great Chicago fire

"Lakeside is an excellent book that adds a great deal to our understanding of development along Lake Michigan in the city of Chicago. —Ann Durkin Keating, North Central College, author of Juliette Kinzie's world

A fascinating and beautifully crafted historical tale of one of America's greatest waterfront cities and the legal doctrines that have shaped its development while preserving its greatest natural asset. A must read for anyone interested in the urban history, property rights and the preservation of public spaces. "—Nicole Stelle Garnett, University of Notre Dame, author of Order the city

"Creating Chicago's extraordinary landscape along Lake Michigan took law, a lot, a lot of law. It's the central idea that shapes Kearney and Merrill's Lakeside. This is a transformative study, rooted in imaginative research into mysterious files and countless government documents, as well as illuminating mapping. It will be essential reading for urban historians, for students of the planning process, as well as for legal historians and for property advocates. For those most interested in property law, Kearney and Merrill question the sentimental conceptions of power in the doctrine of public trust and argue for the importance of possession and vested interests in property. development elaboration. For planners and others, they present a solid argument, although it will inevitably cause controversy, that contingency and unintended consequences were more important than aesthetic vision in producing the wonder and beauty that we admire at home. Chicago lakefront. "—Hendrik Hartog, Class of 1921 Bicentennial Professor in the History of American Law and Liberty, Emeritus, author of Public property and private power

"The authors build their compelling story on a case-by-case basis, easily accessible to the layman reader. We learn how, legally or illegally, agencies, town planners, personalities, courts and a railroad have shaped the lakeside of Chicago of unique beauty today. " – Libby Hill, author of Chicago River

"Lakeside provides a detailed history of the making of the Chicago lakeside. Each chapter tells an episode of local legal history, with the authors briefly and skillfully explaining legal concepts as needed. It is a very well researched, well organized and extremely well written book. "—Stuart Banner, UCLA School of Law, author of Speculation
I look forward to their publications!