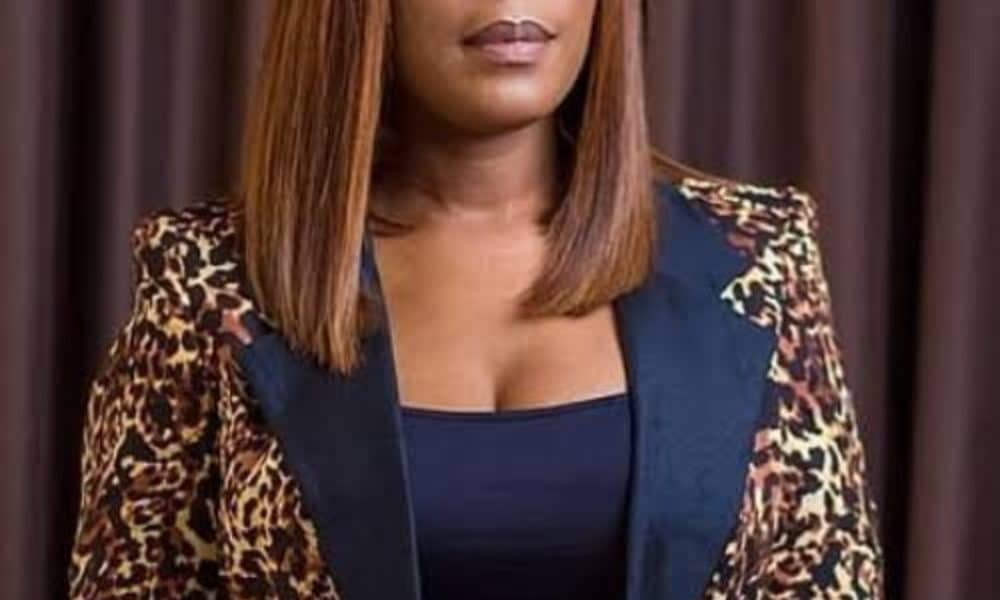 N25 million libel damages: Linda Ikeji calls lawyer 'idiot', social media users react
Famous Nigerian blogger, Linda Ikeji has reacted to the judgment of the High Court of the Federal Capital Territory, Abuja, asking her to pay general and exemplary damages of N25 million and issue a written apology to a plaintiff, Ms. Ajibola Ajayi, daughter of former Governor of Oyo State, Senator Abiola Ajimobi.
Linda Ikeji had reported that the daughter of the former governor of Oyo State had described the protesting LAUTECH students as a "generation of kids with no manners".
In 2018, Ms. Ajibola Ajayi sued Linda Ikeji for defamation for an article she published on her blog in 2017.
On Tuesday, April 12, 2022, the court granted the plaintiff's prayers and ordered Linda Ikeji to pay her 25 million naira in damages.
The company tweeted;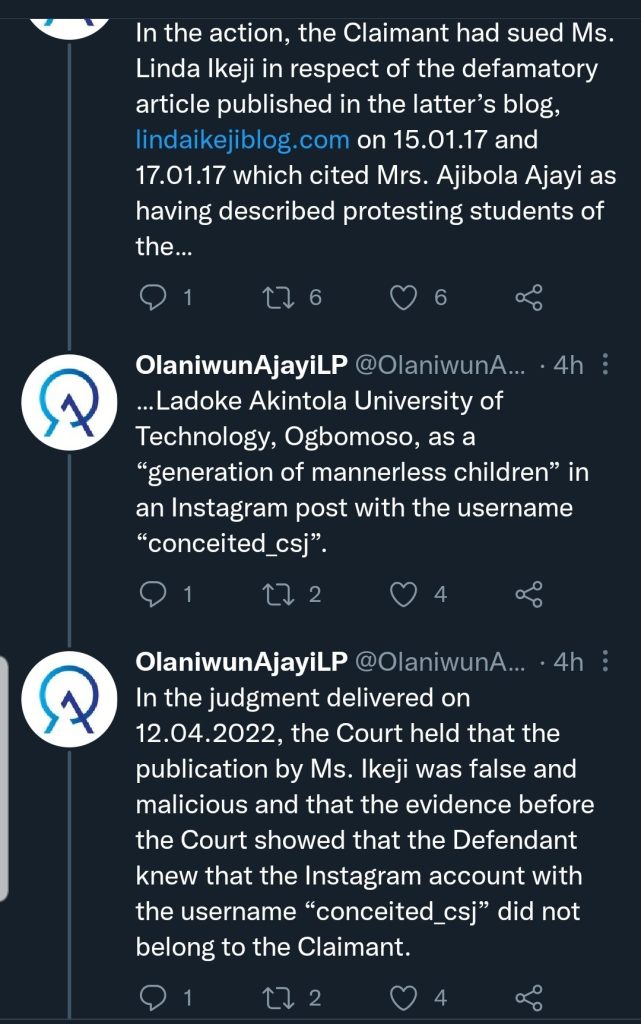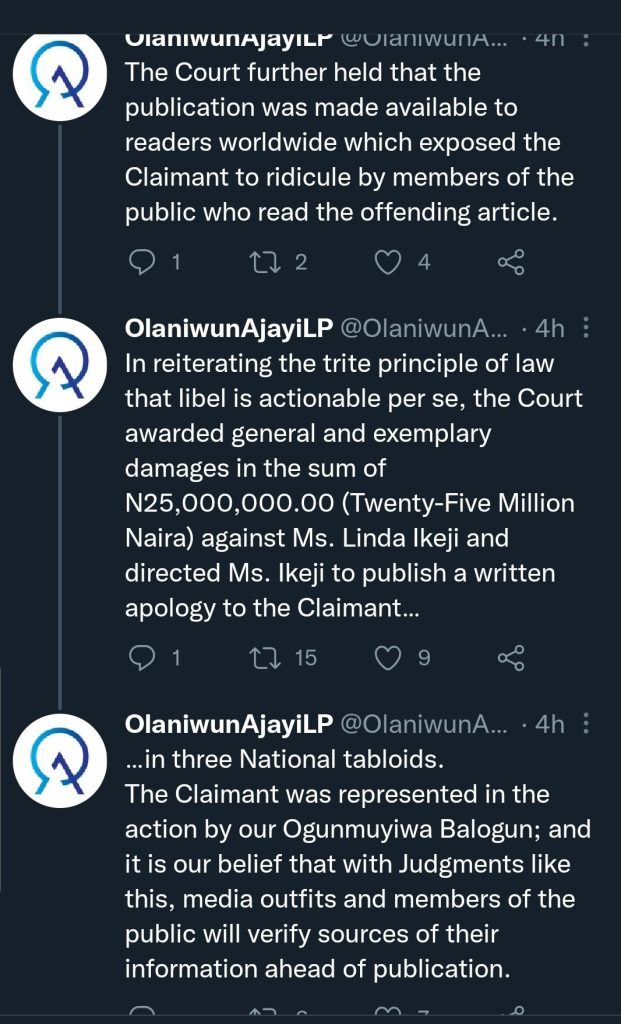 In her response, the blogger in a post on her Twitter account described the lawyer as an inexperienced 26-year-old, asking how the law firm could file a case in both Lagos and Abuja at the same time. .
She says: "You are such a silly lawyer. I can afford 100 lawyers, you're a church rat…"
She tweeted below;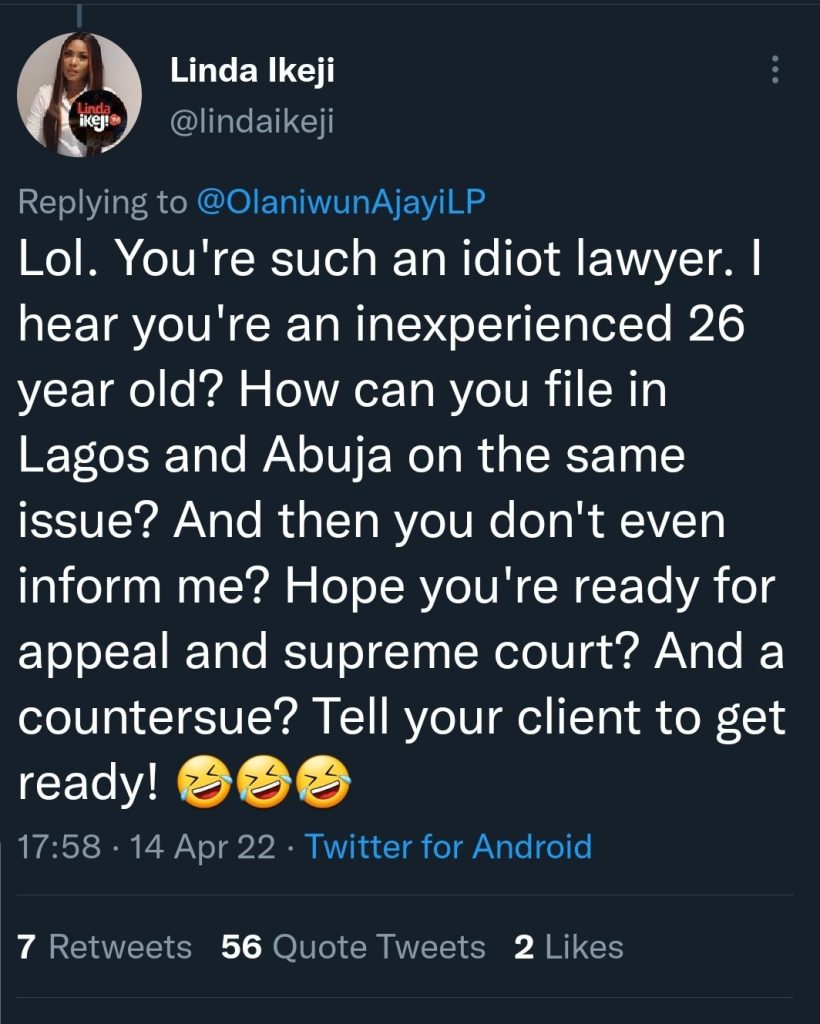 As usual, social media users took sides for their views on Twitter.
Here are some of their reactions:
Linda Ikeji does not buy a market.
A judgment debt of N25Million! This is historical case law.
I will wait to see if David Hundeyin will write about Banwo & Igbodalo. 😅 https://t.co/JWtWcNJMVf

— Son of David (@DrOlusesan) April 14, 2022
Linda ikeji shouldn't let Olaniwun ajayi lock her case ooo.

As my grandmother will say "it's no use small hand by big hand ooo"

Linda this is not a blog. if you don't calm down, the level of ruthlessness they will use to tear you apart will be epic

— B.bosz (@_weyimi) April 14, 2022
I was supporting Linda Ikeji for a minute but for this disrespect, I hope she loses, so she can learn a good lesson in manners, garbage. https://t.co/h39vIGW3eH

—Onlyhuman🦋🦋 (@Misonlyhuman) April 15, 2022
I don't want to believe this is Linda Ikeji's story. Or don't believe she tweeted that. No one is allowed to have so much money and be so ignorant about something so basic as knowing that Olaniwun Ajayi is the biggest law firm in Nigeria. https://t.co/Qsa2L2Z76R

— Ayò-Bánkólé Akíntújoyè (@AyoBankole) April 14, 2022
This is why Twitter refuses to verify Linda Ikeji's account.
She continues to tweet as a parody account.

— Fat Belly 'Nenye (@The_Nenye) April 14, 2022
Linda Ikeji dey troll law firm like @OlaniwunAjayiLP they brag about having money, threatening them with the court of appeal and the supreme court.

Lol, money can't take the trenches away from you.

For what is this demonstration of ignorance?

—Adeda (@tosinadeda) April 14, 2022
Linda Ikeji v Lagos Law Firm is one of the reasons legal practice in Nigeria is not taken seriously. Linda displayed gross ignorance and hooliganism, akin to Dave Umahi's boastful jab at the justice system. Can the law or the legal profession flourish in a place of lawlessness?

— NEFERTITI (@firstladyship) April 15, 2022
Linda Ikeji was sued and convicted for defamation, a false and malicious story that brought discredit to the plaintiff. The plaintiff was awarded N25M in damages. Actions have consequences. Watch what you share on social media.

— Dr. Dipò Awójídé (@OgbeniDipo) April 15, 2022
This stupid audacity of Linda ikeji will land her
in big trouble. Olaniwun Ajayi LP's years of experience are not even close to his age. Audacity!

I really want to see the end of this case 🙏

— Jumjum🔱🌻 (@TheOlajumoke_) April 14, 2022
Advertisement