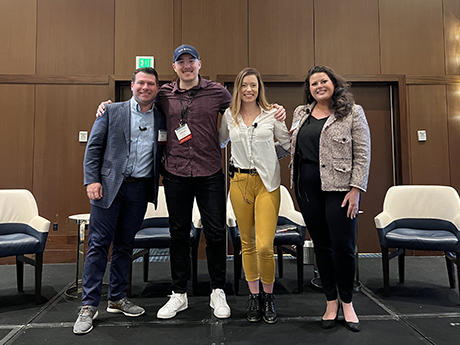 InterFace Panel names what's hot for social media marketing in the student housing industry
DALLAS – It's no surprise that digital marketing – and primarily social media marketing – is one of the best ways to reach new potential tenants in student housing. Students spend much of their free time browsing a variety of social media platforms, from TikTok to Instagram.
And while the focus has been on digital marketing in the industry for some time, the COVID-19 pandemic has placed even more emphasis on the space by eliminating opportunities for traditional marketing methods such as events and in-person tours.
In December, a panel of marketers discussed what's hot and what's not for social media marketing at InterFace Conference Group's third annual LeaseCon / TurnCon in Dallas.
According to a 2021 survey noted by panel moderator Alison Slager, national business development manager for LeaseLabs by RealPage, 79% of marketers used paid ads on social media platforms. With marketing budgets tightening, knowing what resonates with students today is important to ensure that all marketing dollars are well spent.
Instagram
Panelists agreed that the most dominant social media marketing platform currently is Instagram, particularly with its recent addition of Reels, a tool that allows users to post short videos.
"Instagram will likely be the most dominant platform for the foreseeable future, so it's important for owners and operators to understand how the platform is evolving while formulating their marketing strategy," said Michael Newton, CEO of Swarm.
Instagram is planning several changes over the next year, including a transition in the way the platform displays content. "There is a huge change coming where the business goes back to a chronological flow," Newton said. "It turns your marketing strategy upside down if you work with Instagram now, and it will be the biggest marketing shift for the next rental year. "
As it is, the platform uses an algorithm that is written to delete your posts unless you pay money, according to Newton. With a chronological timeline, the best way to get noticed will be to post as much as possible – three to five times a day in order to really create impressions. "This return to a chronological flow is going to allow companies to hurry up and get their names known with huge reach just by getting down to business," he said.
Another recent change is that Instagram will now allow any user to post a link in their story, whereas in previous years links could only be included if you had more than 10,000 followers. Matt Pavlick, president of GRO Marketing, recently used this tool during the launch of the company's new website and was able to garner 380 website visits in a short period of time.
"Obviously if any of your properties are posting something, you need to include links," Pavlick said. Instagram has also rolled out a tool where you can collaborate with another account for posts. If your property has 3,000 followers and an influencer has 5,000 followers, the potential reach is 8,000 followers for a collaborative post, you can therefore more than double your views.Both are free, attention-grabbing tools.
TIC Tac
TikTok, a social media platform where viewers can watch short personal videos, was seen by the panel as the most promising marketing platform.
"It's really changed the way we consume content, especially for Gen Z," Newton noted. "That doesn't necessarily mean you have to create TikToks on your property, but quick, short videos are how students want to consume your content. Anything that is too long or takes some effort will hurt you.
During the social media post, Leslie Cole-Gallant, vice president of strategic initiatives at The Pivotal Cos., Noted that transparency, creating a real connection and having a face behind your brand are the most important considerations.
"Let residents and potential future residents know that you are their resource and that they can really connect with you when they walk into the rental office," she said. "If residents have seen members of your rental office in funny TikTok videos, they will immediately rush to those people because they know them and have a connection made. Rental and marketing efforts must be linked.
Newton agreed, noting that personalization of content has a huge impact when looking to connect with the current generation of college students through social media. "There is a strategy that we have deployed in almost every property that we have worked with that was willing to try it and 100 percent of the time it works great," he said.
"If you're doing some sort of organic outbound marketing on social media where you find students and send them direct messages, try asking one of your team members who has a cheerful, outgoing personality to send a video. 10 seconds instead of mentioning his name, "Newton continued.
"For example, 'Hi Ashley, I saw you were a student at UTK. We're having a pool party. You should come by. This is how Gen Z wants to communicate. When we sent this kind of message , it is very rarely seen and ignored, it is often either loved or sometimes the students respond with a video message, and then it is a very warm and organic contact.
And while the marketing conversation often focuses on digital, GRO's Pavlick noted that he anticipates the incorporation of in-person events will be very successful for this upcoming rental season.
"People are absolutely tired of Zoom calls and still appreciate the personal touch," he said. "I believe the in-person events will work for next fall. In a sea where everyone is scratching and clinging to get your buying attention and consideration, reaching out personally, such as through a video or an in-person event, is going to stand out from the crowd. .
–Katie sloan